By Mike Cummings, TK Architects International Principal
January 2015
This report is later than I would like it to be due to the holidays and first of the year activities.
International box office growth remains the fuel in the movie industry growing to $38 billion in 2014.  Asia had the largest growth in volume.  The overall mood at CineAsia was correspondingly very positive.
Like most trade shows, CineAsia centers around an exhibition of products and services.  There was a lot of activity and interest during the exhibition; as always it was a great opportunity to see friends and meet some new people as well.  This photo captures our booth at the exhibition and provides a glimpse down the walkway at the number of people who were there.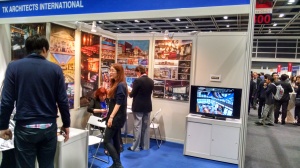 (more…)