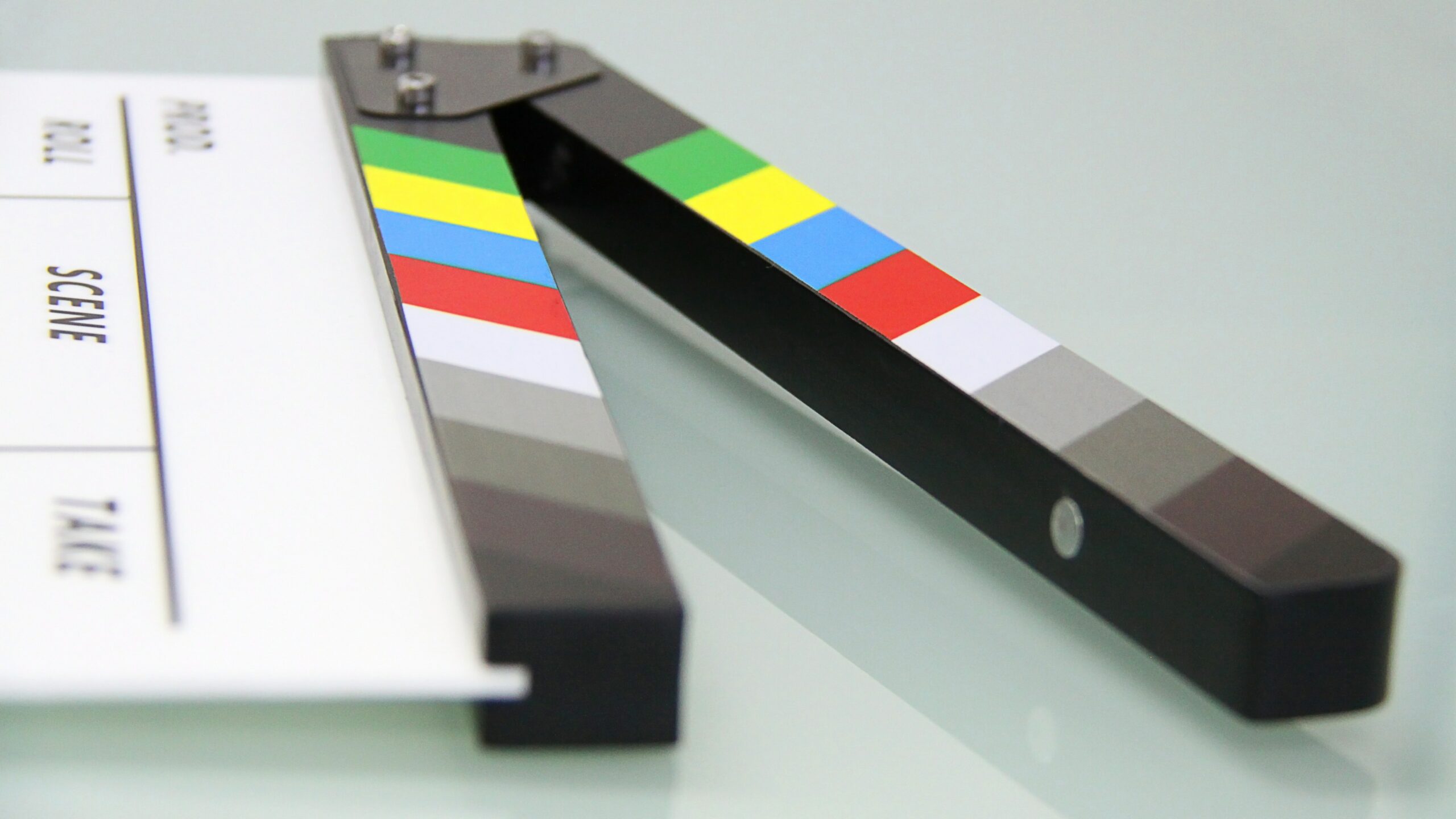 October 2020
The Cinema Business and specifically exhibition have been a challenging business model since their beginning. It enjoyed a golden age, and while forever changed by the advent of television, it has remained a significant, stable, and profitable business. It faced an onslaught of challenges that had many predicting its demise including VCR, Cable, DVD/Blu-Ray, and streaming. The key reason that exhibition survived these challenges is focused and consistent re-invention and innovation.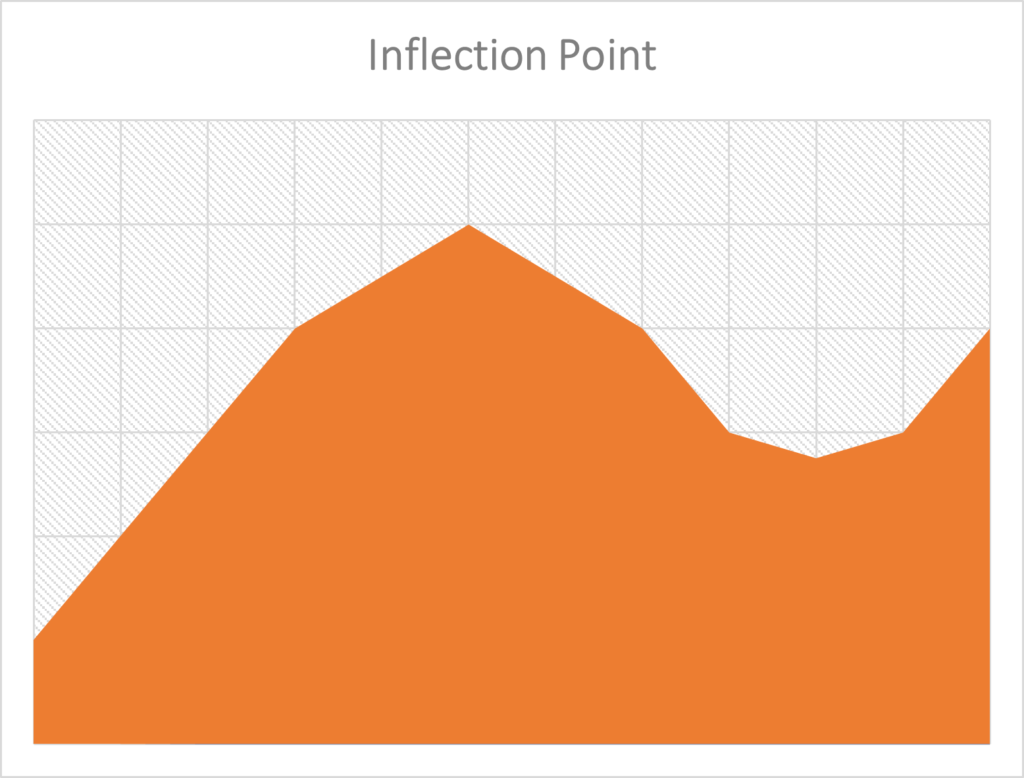 All businesses rely upon partners to provide them products and/or services. Exhibition takes that to another level by relying upon movie content to draw customers to their facilities. In other words, studios have provided the content and exhibition provided the venue and the experience. The business has always been cyclical based on popularity of content, but with long-term stable revenue growth as illustrated below: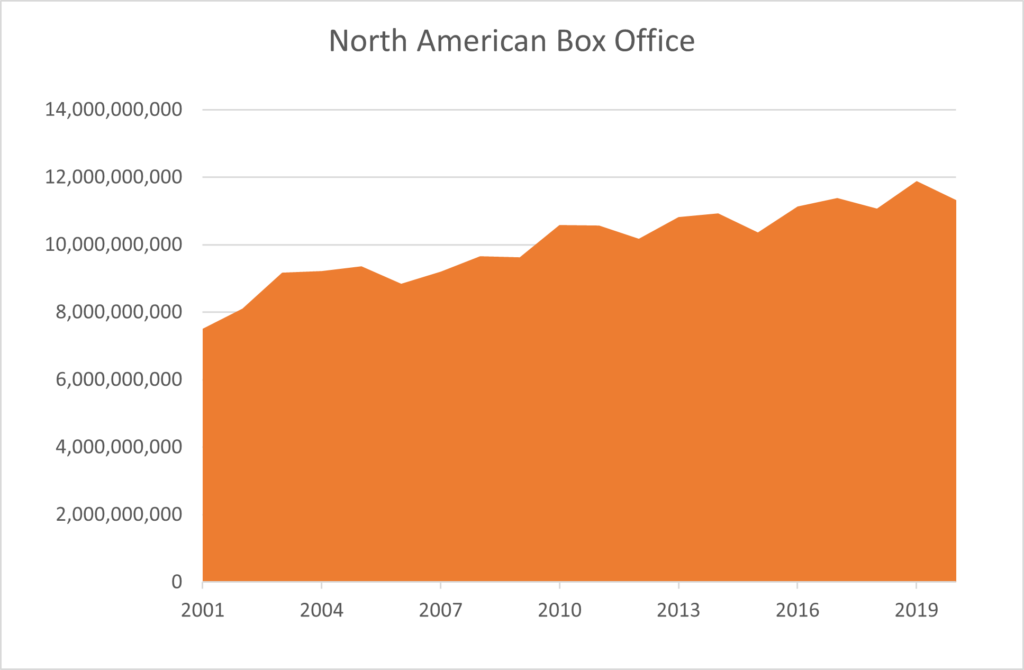 Cinemas, along with most places of public gathering, have been shuttered since March by Covid-19. Cinemas have been permitted to open with limited capacity in many locations, but the results have been less than optimal because there is hesitation from customers and little fresh content to draw them back.
The changes that have happened in 2020 to the exhibition business model are troubling to long-term viability. The three most impactful changes, from my viewpoint, are:
Reversal of the US – Paramount Consent Decree

Studios changing theatrical release patterns – is this a short-term response to pandemic or a longer-term change?

Increased variety and availability of content, and broader acceptance of it from a variety of sources
These changes lead many to predict (again) the end of the movie theatre and moviegoing. That is one possible outcome, though doubtful. Another is that the resilient and creative exhibition community will once again rise to the challenge. I believe they will and would like to talk about what that might be.
First, it is important to consider what we have learned and will continue to learn from this pandemic in the weeks, and months ahead, including:
Safer, touchless ways to transact business, including new customers now more comfortable using digital platforms

We can survive in isolation with digital interaction and support, but

We

crave real

social interaction
This combination of exhibition business model changes and pandemic lessons learned create an inflection point, or time of significant change, for cinema exhibition.
The question is growth or decline? Let us dig a little deeper into the impactful changes.
The reversal of the Paramount Consent Decree, even with the two-year sunset period on block booking and circuit dealing, could be disastrous for independent and smaller market cinemas. Therefore, many in Hollywood pushed back on the removal of the decrees, including the National Association of Theater Owners, the Directors Guild and the Writers Guild of America, arguing that removing such restrictions could hurt independent films, among other things.
Among the rationales for the reversal was that the decree does not apply to all studios, to streamers or international competitors https://deadline.com/2020/08/paramount-consent-decrees-justice-department-2-1203007221/
Some speculated that large tech companies could be in the market to purchase exhibition companies as an outlet for their own content. However, Reed Hastings co-CEO of Netflix told The Hollywood Reporter during a September 10th interview "I can't see us doing a chain or expanding in theatrical," https://www.hollywoodreporter.com/news/reed-hastings-says-netflix-wont-buy-a-theater-chain-but-thinks-moviegoing-will-return . There are dozens more content providers that could have different views or objectives. I expect there to be further consolidation resulting from this ruling and the pandemic shutdown. Someone will see this as an opportunity, whether currently in cinema exhibition or not.
The change in studio theatrical release, is to me the biggest and most impactful change in the exhibition business model. The theatrical release business model has been the glue of studio-exhibition partnership. Even a short-term adjustment, during the pandemic, is controversial. How this issue resolves long-term is the biggest driver of the direction of the inflection point.
I also believe that the increased variety and availability of content can be considered a significant part of a new business model. Content creators are engaged in different vehicles beyond the major Hollywood studios. Outstanding content is being created in the international/global marketplace. There is an opportunity for content that does not fit into the two-hour, formulaic standard.
These combine to create a real threat to the cinema exhibition business model. Unless you redefine the business model. What do I mean?
Be a communal place for social interaction. Diversify the offerings. Focus on developing other sources of content including events, independent and (dare I say it) streaming.
Cinema Entertainment Centers, featured in Box Office Pro in August https://www.boxofficepro.com/the-next-big-thing-the-risks-and-rewards-of-cinema-entertainment-centers-one-of-the-fastest-growing-trends-in-exhibition-today/ is one proven model. Several exhibitors have redefined their business model to include other entertainment components, and some entertainment center businesses have added cinema to their business model.
Challenge everything about your business. Strive to be the place for people to socialize, eat, drink, play and have fun. Cinema is a shared social experience and should remain a focus. The studio/tentpole movie model works, will remain, and requires and deserves large premium auditoriums. Other forms of content might be better served with non-traditional spaces. Consider boutique/social bowling. Games and gaming are a growing business. Consider eSports, virtual/alternative reality components, including other active participation activities such as zipline, climbing and use of outdoor spaces. Concentrate on food and beverage, the mixture and quality of offerings to optimize revenue and profitability.
Find the right, new combination – the next big thing. Be the place for people to socialize, eat, drink, play and have fun in the communities you serve, and it will lead to a better, more robust business model, and long-term stable revenue growth.
Founded in 1981, TK Architects is a full-service architectural firm that offers all professional design services in-house to simplify and streamline coordination, including: Architecture, Interior Design, Graphic Design, Structural Engineering, Mechanical, Electrical, and Plumbing Engineering. The firm's focus is entertainment architecture and engineering, including cinema, bowling, bars/lounges, food service, and entertainment centers worldwide. TK Architects provides the right services at the right time to meet client's specific needs, including: New Buildings, Tenant Interiors, Renovations, Facility Upgrades, and Maintenance.
For more information about TK Architects please visit www.tkarch.com or contact Jack C. Muffoletto, at jcmuffoletto@tkarch.com
Mike Cummings