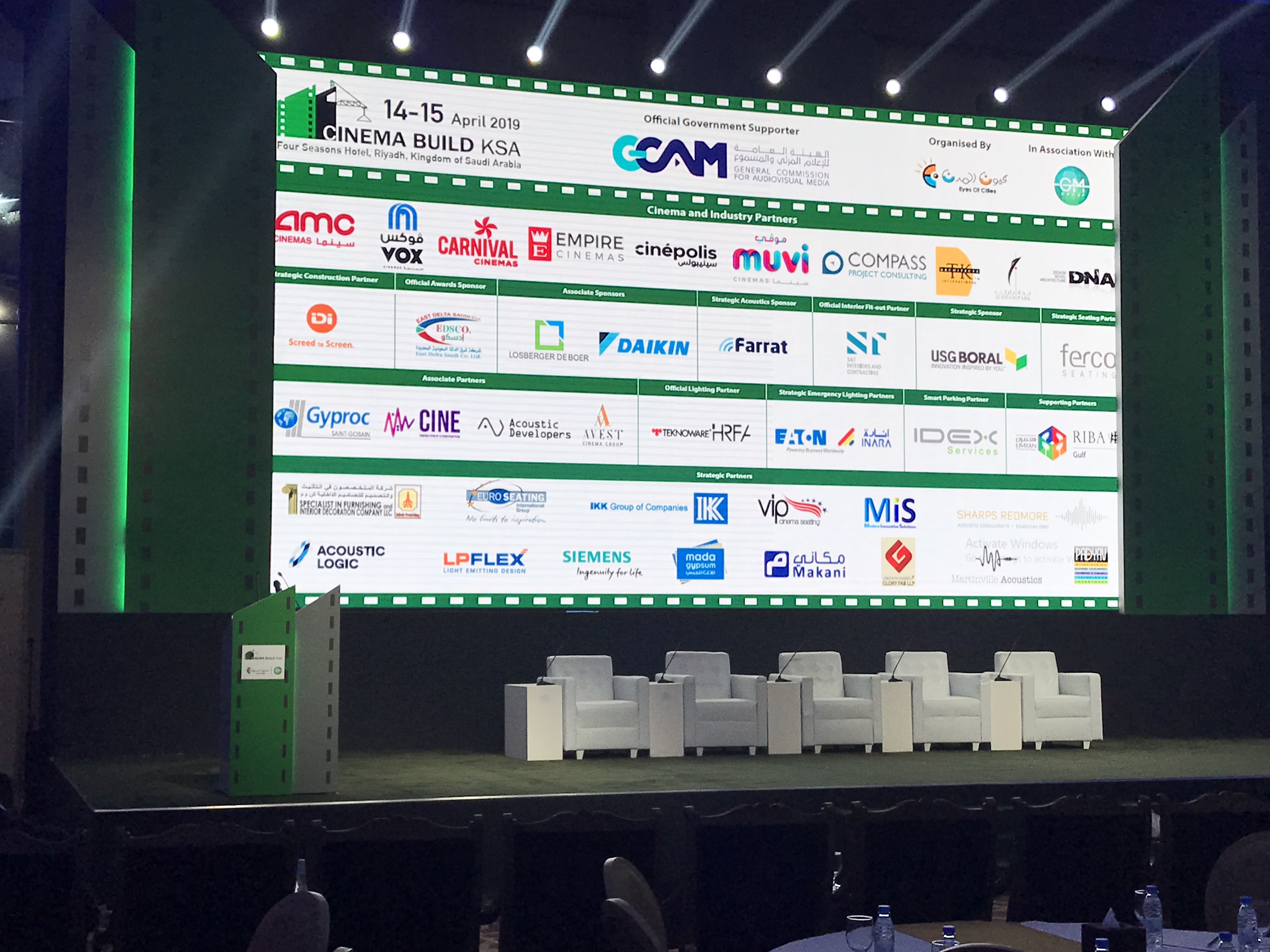 April 2019
by Jack Muffoletto, TK Architects International
The Cinema Build KSA event on April 14-15, 2019 was the first cinema industry exhibition in Saudi Arabia in many, many years. The event was held at the 5 star iconic Four Seasons Hotel in Riyadh, Saudi Arabia, and was attended by cinema exhibitors, vendors and Saudi government officials.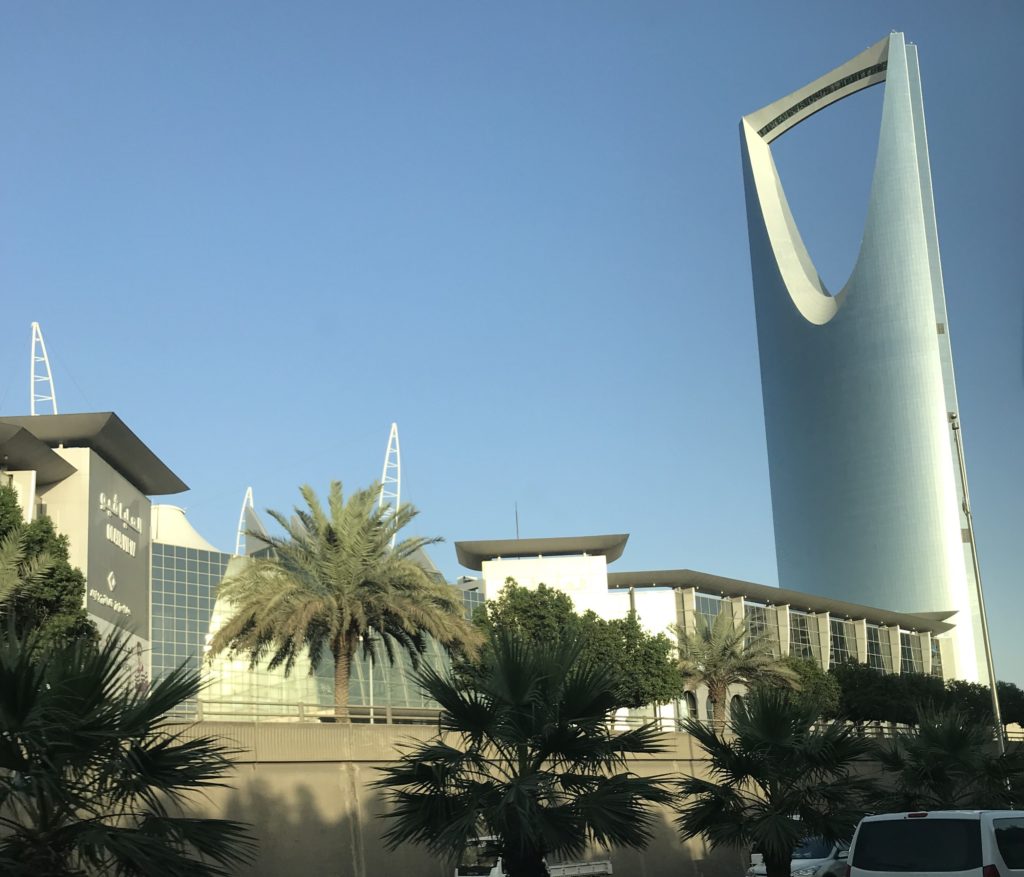 Of particular note to me was the abundance of cinema architects. The KSA 2030 vision calls for 2,500 screens in Saudi Arabia. There are currently only about 2 dozen operating screens and many dozens more screens are currently in development – whether in construction, design, or due diligence stages. There will be a lot of work for a lot of architects, builders, and suppliers.
An interesting panel at the event that I participated in, grouped several architects for a discussion on stage. The primary focus of the discussion centered around design, how to build, the culture of the Saudi customer, how to operate, etc. After thinking about our broad discussion, I have come up with my own thoughts that focus on and summarize cinema design in KSA, as follows:
First and foremost, as cinema designers, we must solve for functionality and efficiency, understanding that cinema design is not a commodity business. There is an exact science to cinema design however there is an art to it as well.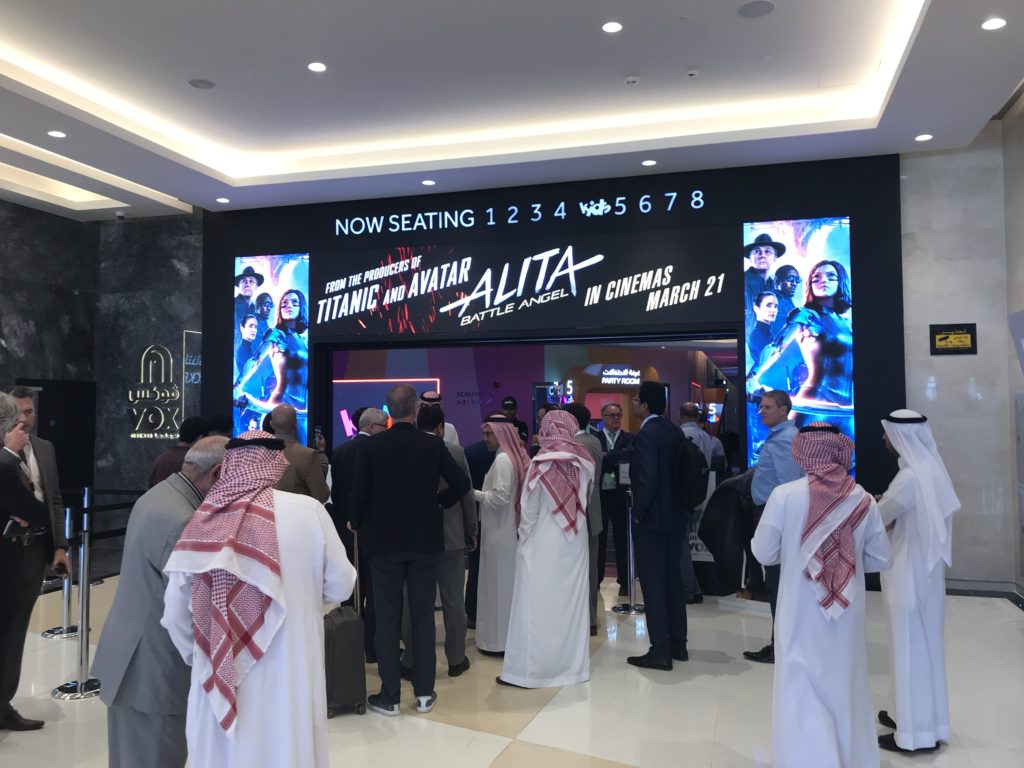 Our job as cinema designers is to help the cinema exhibitor differentiate themselves from their competitors. To do this each cinema exhibitor must develop and live up to their brand, or in other words their promise of a certain quality.
Brand starts with a great idea that is built from the inside out with a story that makes you authentic. Brand is your best product and it evolves over time. Brand beats price. Look at Emirates Airlines. Brand can be emotional. Consider Starbucks, for example.
How does this relate to Saudi Arabia? The brand design should tell a story, where the customer is the main character. Then educate, advocate, and connect. Educate about cinema technology. Create programs and videos where a customer can learn about things like laser projection, 3D, immersive sound, 4DX, etc. Advocate about your facility and support what is different like Food & Beverage, embracing families, kids auditoriums, choices, etc. Connect the customer and the people with whom they surround themselves like family, friends, business associates, etc for a social event.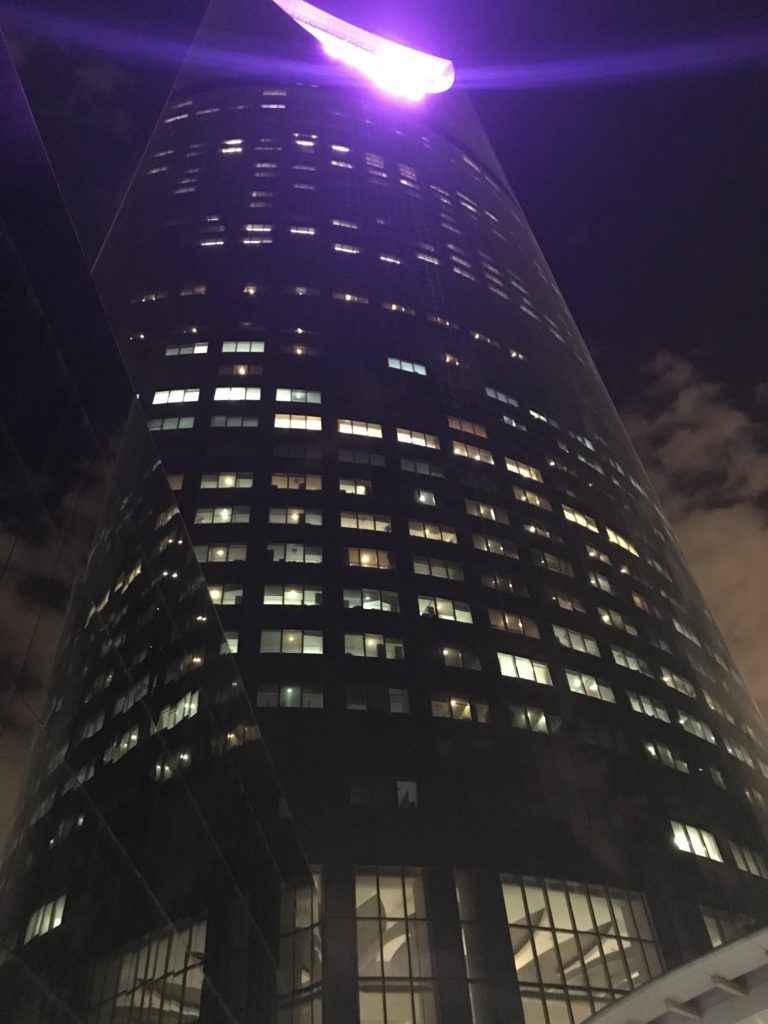 How do you make your cinema authentic?
I think you should infuse unique local attributes to create a sense of place. And create unexpected ways to incorporate those local attributes. When you do this you will create a story seen through the lens of those customers living in it.
What are those local attributes?
It could be local art, maps, materials sourced from the surroundings, stone, wood, fabrics and upholstery with local-flavor patterns, pieces from a local craftsman, creating outdoors indoors, collections of memorabilia like sports, movies, furniture, travel, etc.
What should the look and feel be patterned after?
My position is that it should be low-key luxury. We are a casual society. It is just the way we live. There has been a shift toward comfort-focused environments and comfort breeds usability. Additionally, for cinema, the materials must be durable for the high occupancies anticipated. Conversely, there will always be the market for luxury in some capacity. Note that luxury is more than high end. It is expectations, experience, variety, unique, wi-fi, "Instagram-able" moment, etc.
By and large we must show respect for the Saudi citizens. I believe amenities and choices will make a difference and I believe a family focus is key.
Does anyone know for sure? I do not believe there is a big enough sample size. We need to pay attention and listen to what the Saudi citizens are demanding.

Founded in 1981, TK Architects is a full-service architectural firm that offers all professional design services in-house to simplify and streamline coordination, including: Architecture, Interior Design, Graphic Design, Structural Engineering, Mechanical, Electrical and Plumbing Engineering. The firm's focus is entertainment architecture and engineering, including cinema, bowling, bars/lounges, food service and entertainment centers worldwide. TK Architects provides the right services at the right time to meet client's specific needs, including: New Buildings, Tenant Interiors, Renovations, Facility Upgrades and Maintenance.

For more information about TK Architects please visit www.tkarch.com or contact Jack C. Muffoletto, at jcmuffoletto@tkarch.com