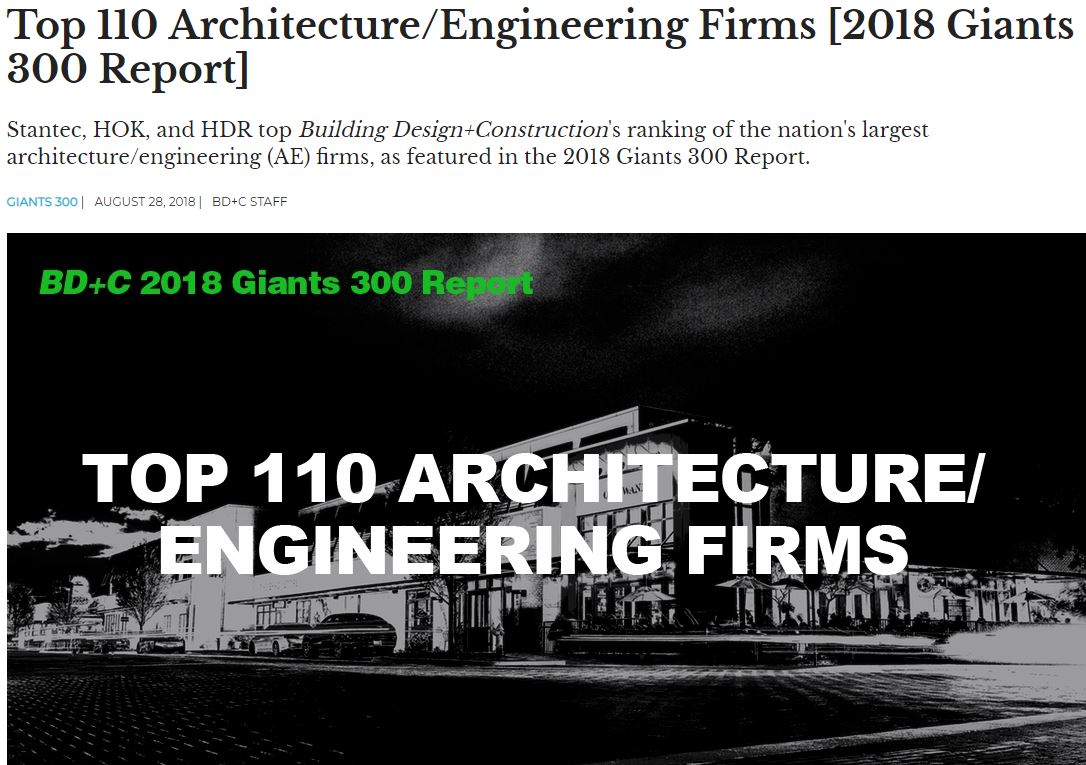 September 2018
Every year Building Design and Construction – Giants 300 Report publishes the annual findings of top architectural and engineering firms in the nation. This year TK Architects is featured in the Building Design and Construction Giants 300 List of 2018 as one of the top-rated Architectural and Engineering Firms in the nation. It placed as #105 with its 7,291,334 in 2017 revenues.
TK Architects International was founded in 1981 with a focus on understanding our client's vision and discovering, developing, and delivering each project's unique character. As a full-service firm, TK Architects International offers all professional design services in-house to simplify and streamline coordination, including:
Architecture

Interior Design

Concept Design

Structural Engineering

Mechanical, Electrical and Plumbing Engineering

Graphic Design and Branding
The complete list of 300 A/E Giants is available online or in August 2018 issue of Building Design+Construction: VIEW HERE.
Founded in 1981, TK Architects is a full-service architectural firm that offers all professional design services in-house to simplify and streamline coordination, including: Architecture, Interior Design, Graphic Design, Structural Engineering, Mechanical, Electrical and Plumbing Engineering. The firm's focus is entertainment architecture and engineering, including cinema, bowling, bars/lounges, food service and entertainment centers worldwide. TK Architects provides the right services at the right time to meet client's specific needs, including: New Buildings, Tenant Interiors, Renovations, Facility Upgrades and Maintenance.
For more information about TK Architects please visit www.tkarch.com or contact Jack C. Muffoletto, at jcmuffoletto@tkarch.com