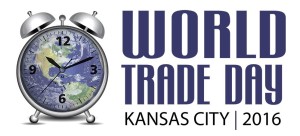 May 2016: TK Architects participated in 2016 Kansas City World Trade Day on Thursday, May 19 2016, at the Kansas City Power & Light Headquarters, 1200 Main Street, Kansas City, MO 64105.
Our own Mike Cummings, Sr. Principal at TK Architects, along with Bret Holder, Garmin, Laura Schmidt, Notes to Self LLC, participated in the panel, led by  Nyamusi K. Igambi, KC -U.S. Commercial Service, which covered various topics and advice on doing business internationally.  Matthew Swindells, Cerner, a keynote speaker, talked about importance of international trade and the new Go Global KC Kansas City Metro Export Plan through Global Cities Initiative. TK Architects was also recognized as a 2015 recipient of Missouri Exporter of the Year Award, while Vektek, Inc. as a 2015 Kansas Exporter of the Year.
World Trade Day is an annual event celebrating Kansas City's international business community. Typically falling during the third week of May, the President of the United States issues a proclamation to recognize the unification of the international trade community to raise awareness and promote the international trade of goods, services, ideas, and culture. Cities across the country celebrate World Trade Day, World Trade Week, or World Trade Month.
Kansas City International Steering Committee (KC ISC), put together in 2013 in cooperation with Kansas City World Trade Center, plans the annual World Trade Day activities in Kansas City among its other events. KC ISC is comprised of a dynamic committee of 25 internationally focused organizations with the mission to bring together all of the Greater Kansas City's internationally affiliated groups. The committee allows all organizations and entities to inform the community on their respective events, work together toward further program collaboration, and reduce duplication of efforts between all parties for the purpose of a stronger and cohesive international regional effort.