LOCAL ARCHITECTURE FIRM (TK ARCHITECTS) HONORED WITH 2015 MO GOVERNOR'S EXPORTER OF THE YEAR AWARD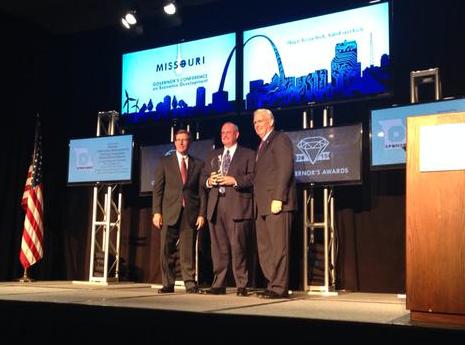 Mike Cummings, one of three TK Principals accepting 2015 Exporter of the Year Award from MO Governor Jay Nixon in St. Louis, MO

Kansas City, MO  –  Last week marked the 57th Annual Governor's Conference on Economic Development held in St. Louis, MO at historical Union Station. Outstanding Missouri businesses and individuals were honored for their achievements in the areas of business, community innovation, and their help to enhance economic development in the state of Missouri.

Among those honored was TK Architects International who was presented the Governor's Exporter of the Year Award by Missouri Governor Jay Nixon.

The Governor's Exporter of the Year Award is given annually to a Missouri small or medium-size manufacturing or service firm that demonstrates outstanding export performance. The qualifications are based upon review of its export growth performance, global integration of business and services, innovative approaches to international trade, and involvement in international trade development.

In 2011, TK Architects committed to re-entering the international marketplace for cinema and entertainment architecture and design.  Their export sales have increased steadily since.  From 2012 to 2014 the company's export sales total increased over 700%.

Jack Muffoletto, one of the three TK Architects principals reflects, "This award is a source of great pride to our firm.  It proves that if you keep doing what you need to do every day, it will pay off.  We also couldn't have done it without the expert assistance of the Missouri International Trade and Investment Office who has been extremely helpful as we have entered into new international markets."

TK Architects International, Inc. is a Kansas City, MO based architectural firm that offers all professional design services in-house to simplify and streamline coordination, including architecture, interior design, structural engineering, and mechanical, electrical and plumbing engineering. Founded in 1981, the company's main focus has always been design for the cinema and entertainment industry.