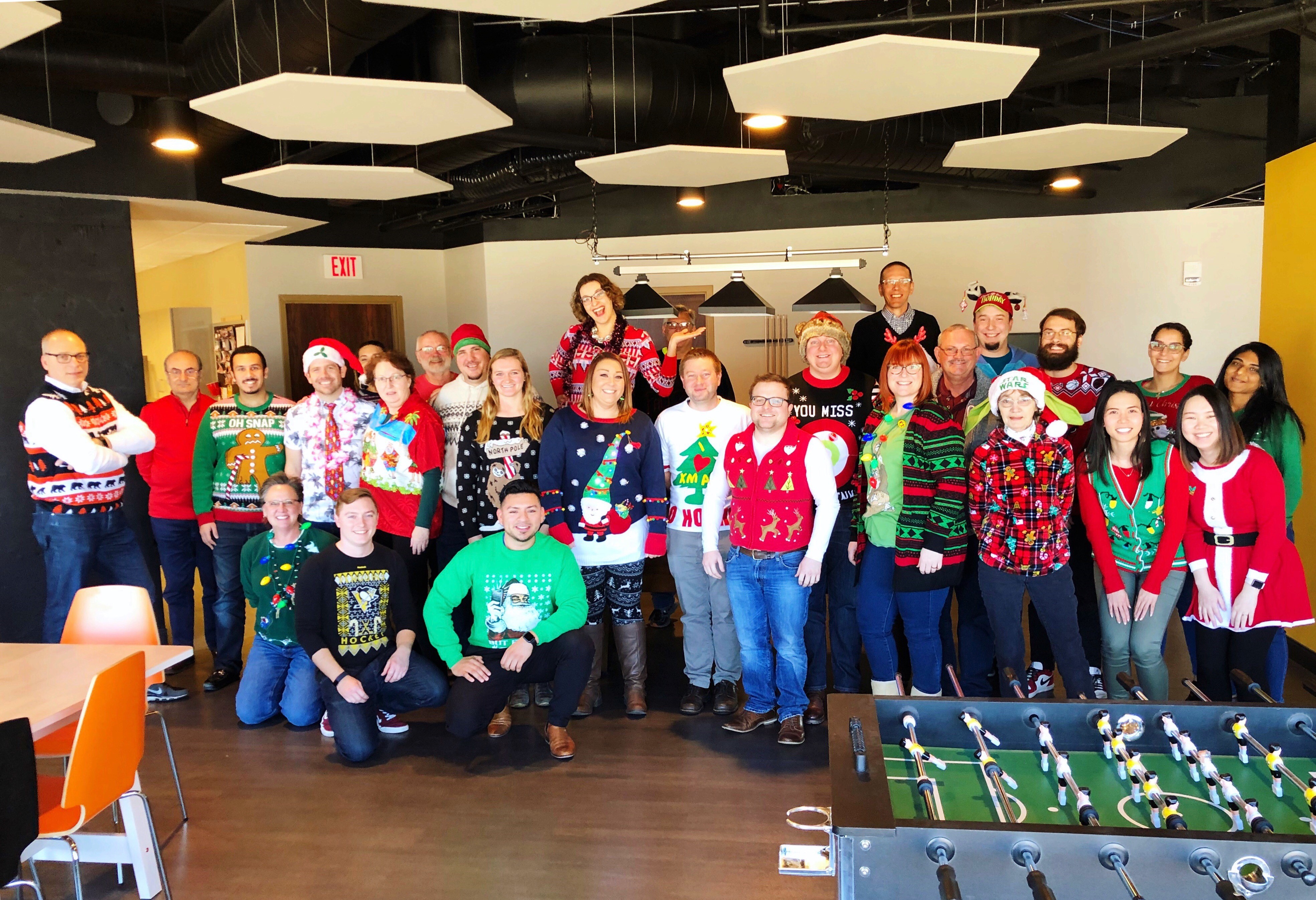 December 2018
On behalf of the entire TK Team we would like to thank all our clients, partners and supporters for another wonderful year! We wish you and your loved ones a very happy holiday season and an amazing and successful year ahead! We love what we do and are looking forward to sharing our knowledge and almost 40 years of experience with you. We look forward to working with all of you again in the upcoming year!
2018 was truly wonderful for TK! Here is our year at a glance…
Our objective has been to maintain our world class expertise in creative and personalized ways. The TK team did extensive travel nationally and internationally meeting with clients and partners, visiting project sites and attending industry exhibitions. 2018 brought a lot of returning and new clients, new projects and a lot of remodels.
We aim to make a difference where we live and work. TK volunteered giving back to the community and celebrated our TK Family achievements, such as births and weddings with epic potlucks.
Travel
We started our year with the International Cinema Technology Association conference, participated in coffee conventions in New Orleans and in Seattle, a Dine-In Cinema Summit as well as some client specific trade shows. We attended Tristate, CinemaCon, CineEurope (Spain), ShowSouth, BirTV (China) Geneva, CineAsia (Hong Kong) tradeshows, as well as MENA Cinema Forum in Dubai. We are excited for Saudi Arabia and the lifting of the ban on the cinema industry and we look forward to the bright future of entertainment in that part of the world.
Presentations and Contributions
We continue to be thought leaders in entertainment and design. You would often see some of our principals giving presentations, interviews or writing articles in industry publications.
TK Principal Theresa English was featured in Women in Global Cinema – Ones to Watch 2018 by Celluloid Junkie online cinema publication (Link).
She also became one the first members of the Advisory Council for the Global Cinema Technology Network CTC this year.   (link)
TK Architects International and Sr. Principal Mike Cummings were featured by the Thinking Bigger magazine in "Tracking Tinsel Town Trends". Mike talks about setting the stage for the cinemas that have now grown to be an important social experience and cinema applications for the new generation of movie-goers. (Link)
He also gave a presentation at the International Cinema Technology Association conference (ICTA), titled "It's Not Just Popcorn and Soda Pop Anymore".
Sr. Principal Jack Muffoletto was interviewed at the CineEurope tradeshow in Barcelona, Spain. His interview was then featured in an article by Spanish publication Cinestel "TK Architects revoluciona el concepto de diseño de sala de cine" (TK Architects revolutionizes the design concept of cinema). In it, Muffoletto explains the recliner seating upgrade benefits for movie-theaters among other cinema-design specific topics. (Link)
An article titled "Destination Entertainment: Preserving the social experience in a streaming world". by Sr. Principal, Mike Cummings, was featured in Film Journal magazine in October.   (Link)
This year Sr. Principal Jack Muffoletto was a presenter at Discover Global Markets with focus on Design and Construction, hosted by US Commercial Service KC.
He also participated on a panel at the MENA Cinema Forum in Dubai, UAE entitled Material Selection and Fitout Design.
TK architect Patrick Carpenter was featured in the AIA Kansas City newsletter under section titled "Licensure Matters", a monthly series of mini-interviews, where they feature newly licensed members in an effort to inspire those currently on their journey.
TK Architects International was included in KC Business Journal's Top Area Architectural Firms List in its annual 2017-2018 Book of Lists. (link)
TK Architects was included in the Kansas City Ingram's Business magazine All-Time Winners Honor Roll depicting the area's leading companies with the most appearances in the 33-year history of Ingram's Corporate Report 100. (Link)
Building Design and Construction – Giants 300 Report publishes the annual findings of top architectural and engineering firms in the nation. This year TK Architects was featured on the list of 2018 top rated Architectural and Engineering Firms in the nation. (Link)
Community Support
TK loves to give back to the community. We continually support local as well as national causes, such as Variety, Hope House, Lead to Read, Heart to Heart, You Thrive KC, Harvestors, Della Lamb, Rose Brooks, Red Cross. We have collected over $2,500 this year with our monthly Tennis Shoe Week donations from employees that went forward a variety of different causes in 2018.
We continue to partner and support KC Chamber of Commerce, World Trade Center, International Trade Council, US Commercial Services, MO Department of Economic Development, KC EDC and other organizations.
We continue to participate in the area career fairs, such as at KU and K-State architecture and engineering departments and recruit fantastic talent.
We continue to enjoy the beautiful artwork by Arts KC here in our office on 11th and Main. Varying local artists get to exhibit their art quarterly. Feel free to stop by our office to have a glimpse of the creative work, that you can often purchase.
Christmas in October – We helped to revamp yet another home in KC that needed some love. As a team we turned another house into our custom yellow color (hello, TK logo), added shutters, did some drywall work on the inside and cleaned up the yard. We even got to babysit the owner's awesome dog. Hope both the dog and the owners enjoy their newly updated home.
WeCare – Our group took part in the annual present making event with the children from Big Brothers Big Sisters of Kansas City. The children are coached to make and decorate wonderful and fun Christmas ornaments for the kids' families.
Other Random Happennings
Twice we sent young staff to China for 2 weeks to train the staff in the TK Nanjing office.
Our first project in Dubai opened in the La Mer shopping center in November.
We hosted American Institute of Architects (AIA) monthly event at our office in March entitled Conversation and Cocktails.
The TK softball team was super-resilient battling their opponents, rain outs, mud, heat, cuts, bruises and warm beer.
TK Family
It IS like a family with monthly birthday cakes and celebratory potlucks of life events. We welcomed new members to the TK family this year: Fawaz, Hanu, Jon, Yasmin. We were happy to welcome back Jadenn as an intern again. We love our foosball and ping pong friendly games during our Thursday Happy Hours at the office. We had a fun outing together at the annual Lake Day celebration, which serves as a wonderful team building event. And our Annual Holiday party brought us all together with close ones at Lidia's Italian restaurant in Kansas City.
This is what we do and what we stand for. Collectively, we experienced opportunities to work with the best clients on the best projects in an environment we are building for everyone to thrive.
We are ready for the new year and new adventures and fun!  Are you?
Happy Holidays from all of us at TK!