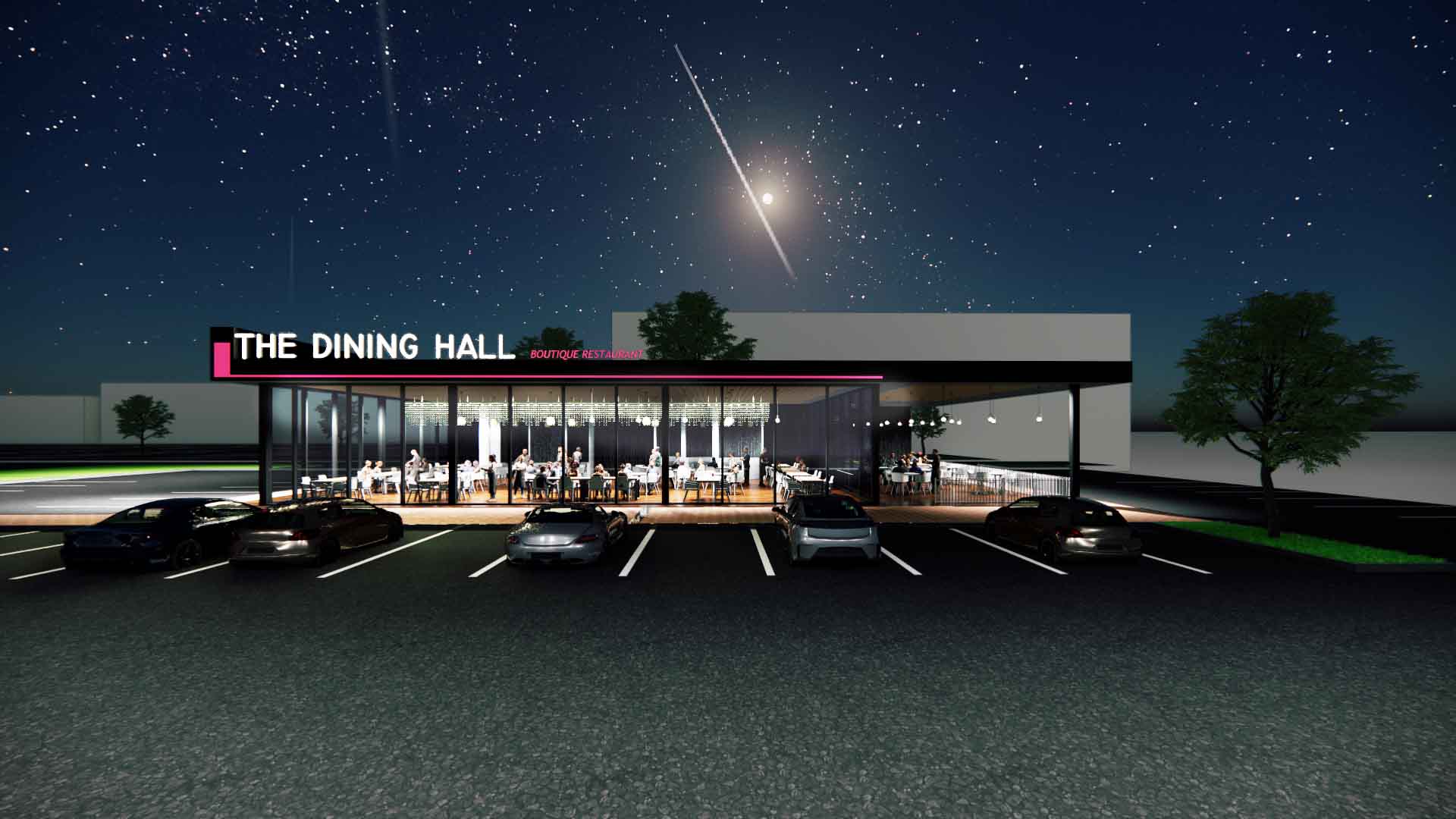 DESIGN IDEAS FOR OUR NEW REALITY
August 17, 2020
The table was draped in caution tape, chalk marked the floor, and people roamed about in gloves and masks. Is this a crime scene? No crime, just the inside of a restaurant in 2020.
For the restaurants bold enough to attempt a grand reopening, inventiveness is the name of the game. Strategies are varied from the fake crime scene described above to creative and inviting transformations. Hopefully, these solutions are temporary, but the jury is still out.
One thing that is not temporary is the change in customer attitudes and habits which have been accelerated by the pandemic. Restaurants and businesses of the future will need to adapt accordingly, which leads us, designers, to ask questions like:
What will the future look like?
The exercise of 'designing the future' is part of our design culture at TK. We brainstorm year-round to come up with original and creative ways to solve new and old problems. Over the next few weeks, I will be sharing some of our ideas.
These are not necessarily ready-to-ship solutions, or are they? They are definitely what-if scenarios meant to build a bridge between where we are now and what the future may hold.
Idea #1
Consider the rise of off-site, ghost kitchens, food trucks, and robust delivery services like Uber-eats. Even before COVID, the distance between the restaurant kitchen and the dining experience was growing. The last three months have only sped up that trend. Some of the businesses who fared best were the ones who had already invested in off-site food production.
For many people, having restaurant-quality food in their own home is not enough. They want to get out! Their favorite part about dining out is the atmosphere and service. This concept focuses on creating a great place for dining and connecting it with remote kitchens.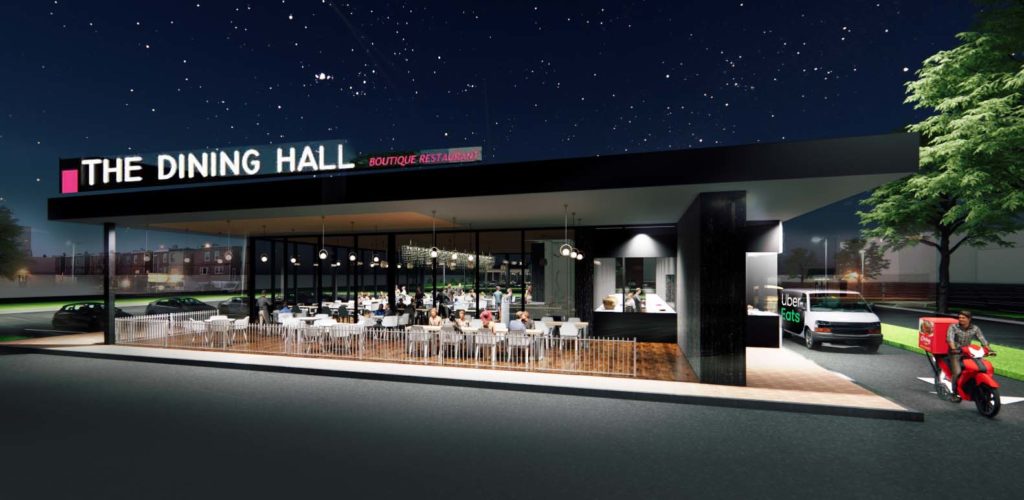 Functionally, this concept does three things: first, it takes the kitchen out of the restaurant and gives 90% of the space to dining. Second, it connects this premium dining experience with a remote kitchen…or kitchens through ordering apps. And third, it reverses the idea of the drive-thru. Rather than food going out the pick-up window, it's being delivered in, plated and staged, and served to customers.
From a practical point of view, this idea allocates more space for seating. It also uses the majority of the prime high-exposure real estate to be front-of-house, while locating the kitchen in lower-cost rental space. Alternatively, completely eliminate the kitchen, and only rely on third party off-site to deliver. In this situation the facility is primarily about providing an experience and atmosphere.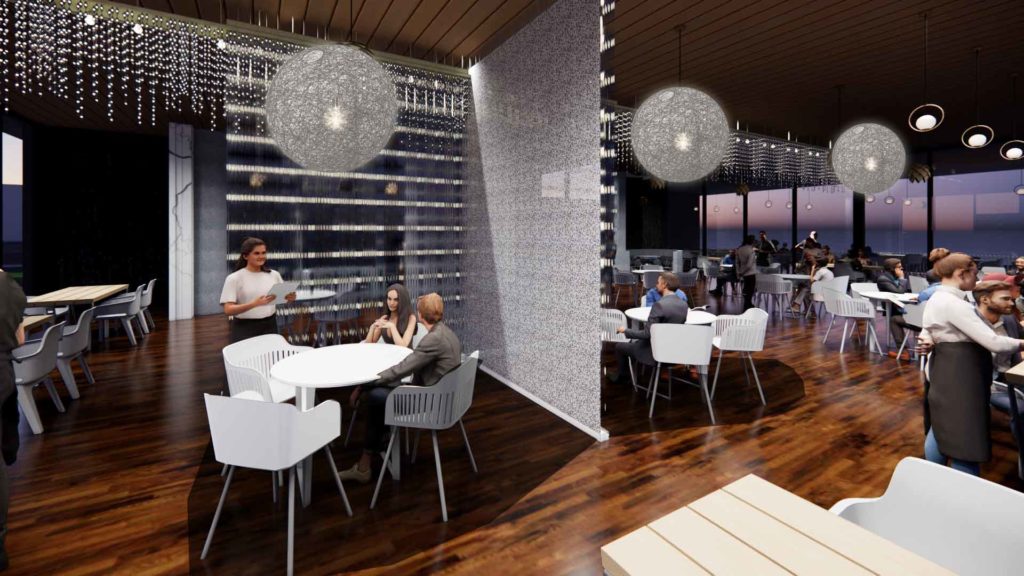 Idea #2
Things have changed, people order online, uber-eats accounts for a growing number of pick up orders, and smart POS can coordinate orders better than the traditional first-in-first-out organization.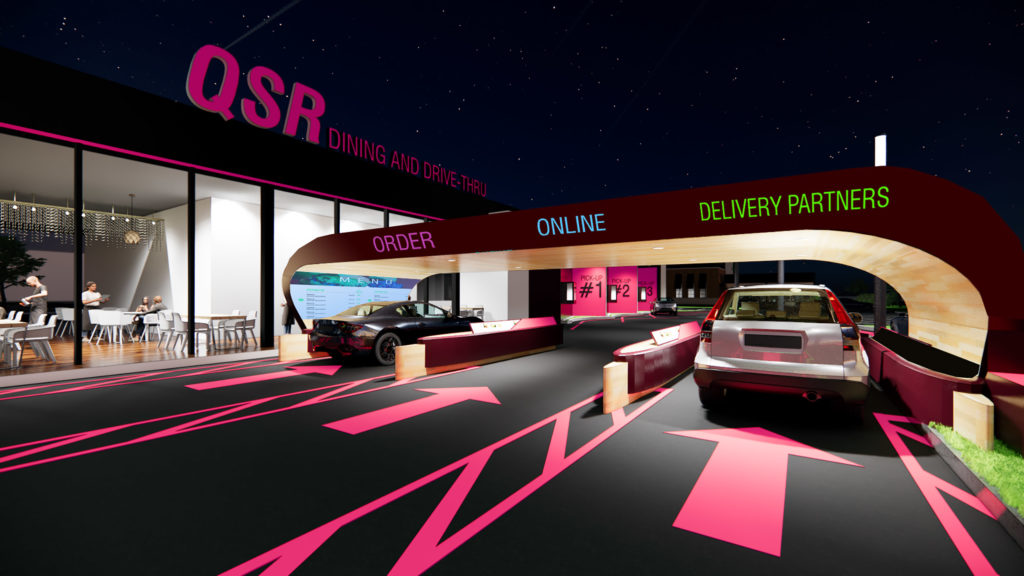 This concept imagines an improved drive through that can handle increased volume while accommodating varied types of order placement. More ordering, more pick up. Additionally, it designs around the new businesses and ordering habits by separating ordering, from online, from delivery partners. From an experiential level, it elevates the drive-through experience with design, which may be key for brands exploring drive-through at higher price points, or just more brand loyalty.
A concept like this is aimed at meeting future demands, increasing volume, decreasing wait times, and wrapping that all up in an improved aesthetic experience.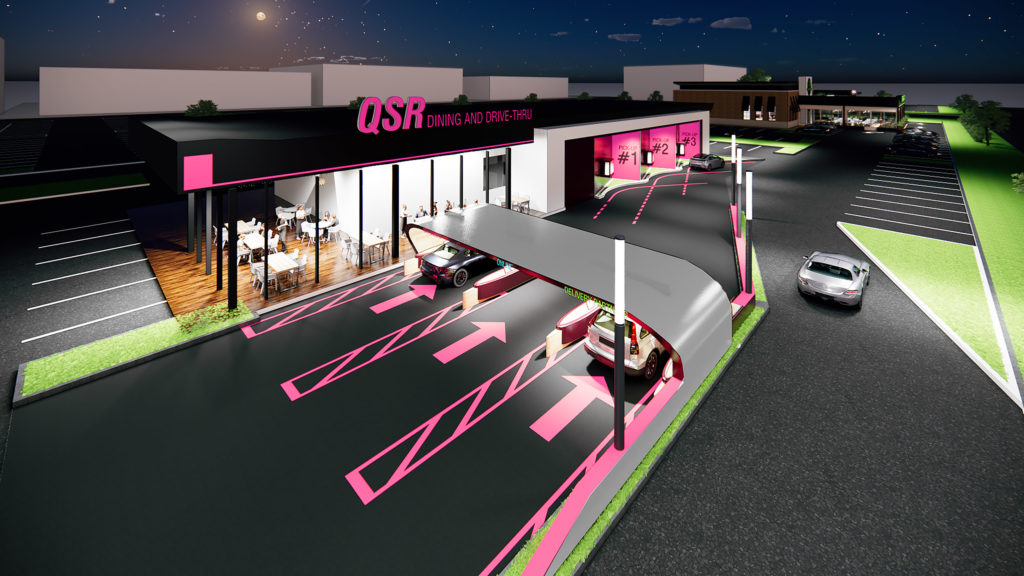 Well, there you have it. Two ideas. I hope you enjoyed thinking about the restaurants of the future. Did this spark any ideas for you? Perhaps you know how we can improve one of these…we'd love to hear from you!
More of our concepts for the restaurant of the future will be coming soon. Whatever you decide to do, the key is to create something that endears customers to your brand for years to come!
Steven Dragan

Founded in 1981, TK Architects is a full-service architectural firm that offers all professional design services in-house to simplify and streamline coordination, including: Architecture, Interior Design, Graphic Design, Structural Engineering, Mechanical, Electrical, and Plumbing Engineering. The firm's focus is entertainment architecture and engineering, including cinema, bowling, bars/lounges, food service, and entertainment centers worldwide. TK Architects provides the right services at the right time to meet client's specific needs, including: New Buildings, Tenant Interiors, Renovations, Facility Upgrades, and Maintenance.

For more information about TK Architects please visit www.tkarch.com or contact Jack C. Muffoletto, at jcmuffoletto@tkarch.com