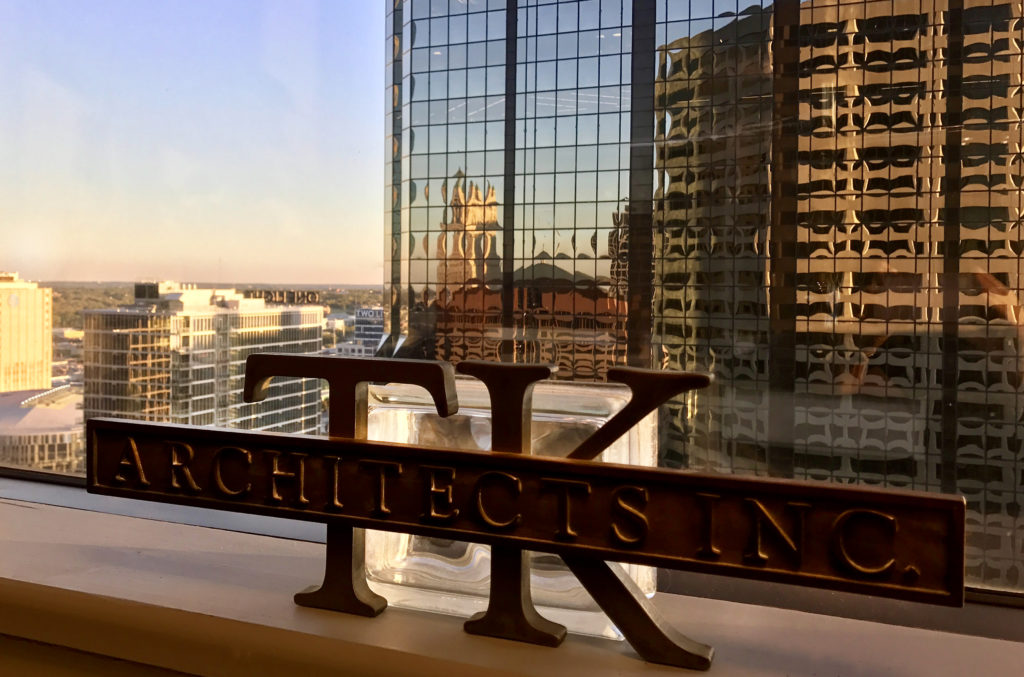 New year, new beginnings… and, boy, did TK have many new beginnings this past year 2017.
The Great Move.
We have moved. It was only across the street, but after many years at the Mark Twain historic tower, we moved to the City Center Square building at 1100 Main St, Suite 2200. We love our new place with bird's eye views of downtown KC. We jumped at the chance to design the new space to our own liking. It was a long road to perfection (as you can see below), but we are loving our finished and new place now! (If you have not stopped by, please do when you are in the area! )
Many of you did get a chance to have a fun visit at the office during our official Open House this fall. It was a lot of fun, and allowed us to showcase all the hard work we had done on our office. Thank you for helping us celebrate!
 Another Great Move. A Virtual One!
We also revealed our new website earlier this year. It took months of preparation and data compilation, but we are excited with the results. As it seems it is always a work in progress, we are always happy to hear your feedback and suggestions as we are still navigating and updating it as we go. There were also many changes with our servers and IT systems, and even our email transfer, and other awesome technical upgrades, which took a lot of careful preparation and planning, but in the end they all mean one thing – we are moving forward in getting us even better prepared to serve our clients in the best possible way!
New Faces & New Spirit.
We have been able to welcome a few new faces to the office this year (Hail Ahmad, Jimmy, Julie, Steve P., Vivian, Jack, Glen and returning Berta, Jacob and Hahn, as well as our interns Jadenn, Angela and Jordan) . We also are pleased to expand our services from interior and concept design, architecture, MEP and Structural engineering to now additionally offering Branding and Graphic Design.
 New Projects & New Openings.
We worked on numerous projects throughout the year all over the United States and internationally- some brand new builds, some retrofits, many recliner conversion.
TK worked on a few Malco movie theatres and Acadiana Family Entertainment Center.  It involved the remodel of the existing Malco bowling facility in Lafayette, LA. The facility has unobstructed views (no columns) of 32 bowling lanes, new bowling seating, café, bar, shoes and guest service counters, redemption room and arcade. The location opened on October 20th, 2017, and phase 3 is under construction and includes laser tag arena and party rooms.
We did a lot of work on Cinemark Theatres in various states, for example, remodeled and increased  the size of a large format XD screen at 216 Woodlands, and more conversions in Beaumont, and Jacinto City, and first Cinemark concept in the US for Camp Cinemark for Allen. We did some interior renovations such as in Western Hills Cinemark and Woodlands, and bar at Valley View.  We worked on numerous Recliner conversions for Cinemark, such as the locations at Gulfport, Lubbock, Jacksonville, Apple Valley, Allen, Louisville, St. Matthew's Mall Louisville, Asheville, Colorado Springs, Moosic, Park Place, Davenport, Woodlands Market Square, Pearl, Pflugerville, Towson , El Paso West, Hanover , and Huntsville.
We worked on an Iconic screen addition at Icon Cinema in Albuquerque, New Mexico. It opened in March 2017, and it's one of the first flat floor auditoriums.
We did a few Marcus re-brand projects, such as Lincoln Grand, Duluth, LaCrosse, Ronnies, O'Fallon and Cape West.
Also a new Celebrity Grand opened this year (The Grand Phase 1 Remodel, & The Grand Phase 2 Addition)
TK has also completed the interior for Muskogee Theatre called Epic Cinema.
And then some additional work on Southern Theatre (D'Iberville reseat and bar, Hattiesburg reseat and bar, Lake Mary reseat and canopy).
TK has partnered with Barco Escape screens, and Barco Lobby Entertainment. (Plano, Playa Vista etc).
We have completed work on a few more Food and Beverage venues this year, such as El Pollo Loco restaurants (San Rafael, Webster, Fort Worth, Cypress, Avondale etc. )
Among international work, we did some great design work for projects in China, including the new 10 screen theatre in Zhuhai with all ten THX auditoriums.
We are always open to new ideas, and ready to help you and whoever you know with their cinema, entertainment and Food & Beverage design projects locally and globally.
New and Familiar places. Globetrotting.
We were busy traveling the world and seeing new and old friends, partners and patrons again.
We have attended and presented our services and expertise at numerous tradeshows and events in Guangzhou, China (GTCFF), Mississippi (Tristate), Vegas (CinemaCon), Saudi Arabia (RECon MENA), Spain (CineEurope), Beijing China (BIRTV), Georgia (ShowSouth), Texas (CineShow, and Cinemark Golf Tournament), California (ICTA), Wisconsin (Geneva), Russia (KinoExpo), Florida (ShowEast), UAE (RECon MENA), Shanghai China (CC&TE Expo), Hong Kong (CineAsia). Other trips included our routine team trips to China to visit our JV office, and business development trips and project-related travel to Asia, such as Korea among others. Our team captains are always ready to come out on job sites and to meet clients wherever they may be, which often lets us cover the entire US map and beyond annually.
 Thought Leadership.
We have continued our efforts in being the industry thought leaders, and contributed to various presentations, shows and articles. We were featured in KC Business Journal as a FAST 50: FASTEST-GROWING AREA BUSINESSES of Greater Kansas City. Then, TK Architects was named one of the "Building Design and Construction" 300 giants of 2017 as the top rated Architectural and Engineering, as we placed as #93. An article by Jack Muffoletto., Sr. Principal, was published in the September issue of Film Journal, named "Shaping the Industry with Design." 
Mike Cummings, Sr. Principal, presented at the International Cinema Technology Association (ICTA) seminar series in Los Angeles, in January 2017. His presentation "Your Cinema is Today's Entertainment (Destination)" focused on the role of technology and design in cinema industry.
In April, Mike Cummings also presented at the International Trade Council Doing Business Internationally series event, "Shaping the Cinema Experience Around the World".
We also continued to strengthen our relationships with local and regional partners, such as KU School of Architecture, by hosting a retreat for "Global Sports and Entertainment Design and Architecture" at our new office. We continue to partner and support KC Chamber of Commerce, World Trade Center, International Trade Council, US Commercial Services, MO Department of Economic Development, KC EDC and other organizations. And we continue to participate in the area career fairs, such as at KU and S Kstate.
Playing Hard.
We worked hard, but we also played hard. We had a fun celebration retreat at the lake in summer. It is always fun to meet coworkers and mingle freely outside the office.
We also had a wonderful end of the year Holiday Party at Grand Street Café on the Country Club Plaza.
We have celebrated wedding and baby showers, and later welcomed those babies to our corporate events…
Giving Back
Whenever we get a chance, we always continue to give back to the community – with our monthly Tennis Shoe monetary contributions, and other community projects. TK also supported RoseBrooks Center in Kansas City at the Annual Casino Night Fundraiser.
One of the other inspirational programs is our partnership with Arts KC that allows TK Architects to display the beautiful artwork of established and aspiring artists right here at our office!
One of the biggest community projects this year was our annual service day at the Christmas in October. We were able to rehabilitate 3 homes in the KC metro area, and had a really nice representation by employees and their families and friends participating!
We are eager to see what the new year brings, but we know for sure we are ready for the ride. Get on with the NEW! We are full of new and amazing ideas! We cannot wait to collaborate on new projects!
Happy New Year from our entire team at TK Architects!