December 2016
Here we come, the year 2016 is coming to an end, and we look forward to a successful 2017! In the meanwhile it is a good time to slow down and reminisce on what the past year 2016 has brought us.

TK is 35
2016 was a busy year for TK Architects. It was marked by the company's 35th anniversary, and many changes and celebrations that came with it!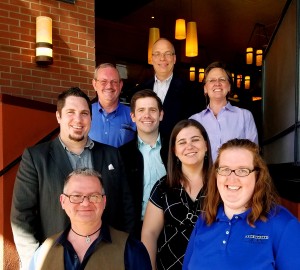 TK Architects hosted a 35th year Anniversary party for the staff at the Gordon Biersch restaurant and bar in April, where the announcement was made that 5 people were being –promoted to principals (listed alphabetically by last name):
Steven Dragan
Theresa English
Jennifer Meyer
Chad Philhour
Ian Wilson
Later in April TK Architects attended the annual CinemaCon tradeshow in Las Vegas, and hosted a wonderful 35 year birthday celebration party for friends and partners in the infamous RainMan suite (you can tell we are in the movie theatre industry and get excited about things like that ) of star studded Caesar's Hotel (Some of our guests even reported to have taken an elevator up to our party together with Bradley Cooper).
Professional Tradeshows and Exhibits
TK Architects attended many tradeshows as part of our ongoing marketing efforts all across the world. We had visited: ICTA, Tristate, CinemaCon, Cinemark Convention, GTCFF Guangzhou in China, Cine Europe in Spain, BIRTV in China, KinoExpo in Russia, Geneva Convention, ShowEast, RECON MENA in UAE, and CineAsia in Hong Kong. It is always great not to only meet new clients and partners, but also visit with the industry leaders, vendors and our old friends. Our Senior Principals also made several trips to the UAE and China, as part of our ongoing international business development efforts.
Presentations & Publications
TK Architects strives to be the industry leader in cinema design, and stays tuned to all current trends and industry developments. Our senior management was featured in a few publications and interviews, and presented at large events as experts in the cinema industry.
Mike Cummings, our Sr. Principal, was a panelist and a presenter at the ICTA annual conference in January (Premium Experiences, Including Luxury Seating), and then presented again at CinemaCon in April.
Jennifer Meyer, TK Architects Principal, presented about "Building Considerations for Luxury Seating" at Tristate tradeshow in March.
An interview with Mike Cummings was featured in an online cinema news publication Celluloid Junkie, "CJ @CinemaCon: Interview with TK Architect's Mike Cummings" by Patrick von Sychowski. In the interview, Mike Cummings talked about TK Architects latest cinema projects, dilemmas and latest industry developments. The original full article can be found at CJ website HERE.
TK Architects participated in 2016 Kansas City World Trade Day in May. Mike Cummings, Sr. Principal at TK Architects, along with Bret Holder, Garmin, Laura Schmidt, Notes to Self LLC, participated in the panel, led by  Nyamusi K. Igambi, KC -U.S. Commercial Service, which covered various topics and advice on doing business internationally.
In August 2016, Mike Cummings was interviewed and featured in FilmJournal regarding the current trends on projection booth usage or going boothless with auditoriums. He discussed challenges and benefits of a theater operator going boothless. The full content can be found HERE. 
Jack Muffoletto, TK's Sr. Principal, has written an article "LOBBY–ING YOUR CUSTOMERS: SMART DESIGN CAN TRANSFORM THE CINEMA INTO A POPULAR DESTINATION", which first appeared in the October (Lobby and Design) issue of Film Journal magazine. In it Jack discussed the impact of design and functionality on customer engagement. More HERE.
He also published another article on a similar topic in Retail and Leisure International in October.
Mike Cummings was a presenter at CineAsia in December with the topics of "Maximizing Business Performance through Investments in Next Generation Cinema Technology".  He was also featured in the Millennial-themed article in the December issue of the Screen Trade Magazine.
Recognition and Awards
We are getting noticed, and received a few awards and recognition throughout the year.
For the 8th year in a row, Ingram's "2016 Corporate Report 100" named TK Architects International one of Kansas City's 100 Fastest-Growing Companies. TK Architects had shown Annual Average Growth Rate of 26.33% and current growth of 79% in the past 3 years, which placed it in the 80th spot. For 35 years TK Architects International has been a leader in entertainment and cinema design, and had always shown tremendous growth. More HERE. 
TK Architects was honored to be featured in July 2016 issue of BUILDING DESIGN & CONSTRUCTION magazine, under 2016 GIANTS 300 Report: Ranking the nation's largest architecture, engineering, and construction firms. It was part of Top 80 Architecture/Engineering Firms Report. TK Architects is also #64 on Top 90 Retail Architecture Firms List of the BD+C's 2016 Giants 300 Report. TK Architects was also mentioned under Architecture Giants: Innovations from 51 TOP Design Firms, listed among other top architectural firms that provided advice and examples for design industry growth.
TK Architects International was named one of Top Area Architectural Firms in October 2016 issue by Kansas City's Ingram's Magazine. HERE. 
Projects
TK has finished the year on a high note – the company exceeded growth expectations  We opened a few fantastic new cinemas and completed the following renovation projects: EPIC Lee Vista and Jacksonville, SANTIKOS Casa Blanca, EMBASSY remodel, Silverado remodel, MALCO Sikeston, MARCUS Rosemont and Palace addition, Crossroads, Southpointe, Valley Grand; CINEMARK Orleans and Santa Fe Station in Las Vegas, Plano Legacy, Web Chapel, Perkins Rowe in Baton Rouge, Dayton South, Bradley, Fayetteville, Katy, Mishiwaka, Rochester and Amarillo; and REGAL at Auburn, Alderwood, Masillon, Snowden, Deerfield, West Oaks, Wilder and Texas Station and many more…
Collaboration
 Our success would not happen without collaboration with our old and new partners, and local and state community resources such as our friends at Kansas City Economic Development Council, Kansas City Chamber of Commerce, US Commercial Service office in Kansas City and Missouri Department of Economic Development. We thank and appreciate their continuous support of Kansas City and Missouri businesses.
Fun
We did not only work hard, but played hard as well.
We had a few very successful and fun Happy Hours and Pool Tournament days!
This year we celebrated several large events – Joy and Ching's wedding shower, Drew and Ashley's baby shower, welcomed our China office delegates at a potluck, and celebrated Boss' Day. And the two of our favorites of the year of course – an annual office retreat aka the Lake Day; and a Holiday Dinner party, which we celebrated at the Argentinian Restaurant Piropos this year.
The People
We participated in several Career Recruitment fairs and hosted yet again a successful High School Student Internship program through Northland Caps (www.northlandcaps.org). Gabby was our Structural Engineer intern this year through the program, and we enjoyed having her at the office.
We welcomed many new employees that became a fantastic addition to the office this year! Welcome: Erin, Jacob, Hahn, Travis, Curtis, Shannon, Ali, Courtney, Jan, Riad, Ben, Chris, Don, Clay and Marian – all in all 15 of the new amazing staff!
Community Involvement
We also volunteered and gave back to the community– at IIDA Color Couture, Christmas in October, and We Care, ArtsKC, as well as fundraised monthly for various nonprofit organizations during our "Tennis Shoe" weeks, and sponsored a couple of charity golf tournaments together with Cinemark and The Variety charity. TK has put together a softball team with some of our staff competing with other teams in Kansas City this year. TK Architects was also proud to be on the brainstorming planning team for the Kansas City Global Cities Initiative and be present at the Go Global KC Export Plan regional launch.
New
And … the drum rolls please… In the beginning of 2017, TK Architects plans to release a new website (stay tuned!) and will move into a new location. And even though the move is just a short one across the street, it has taken a lot of brainstorming and preparation for the design, construction and moving logistics during these past few months from the entire TK Architects team. Please stay tuned for some images of the process in a separate blog and in social media posts…
We look forward to starting a brand new year at a brand new office with brand new opportunities and expectations!
We wish you a very happy holiday season and a successful year ahead!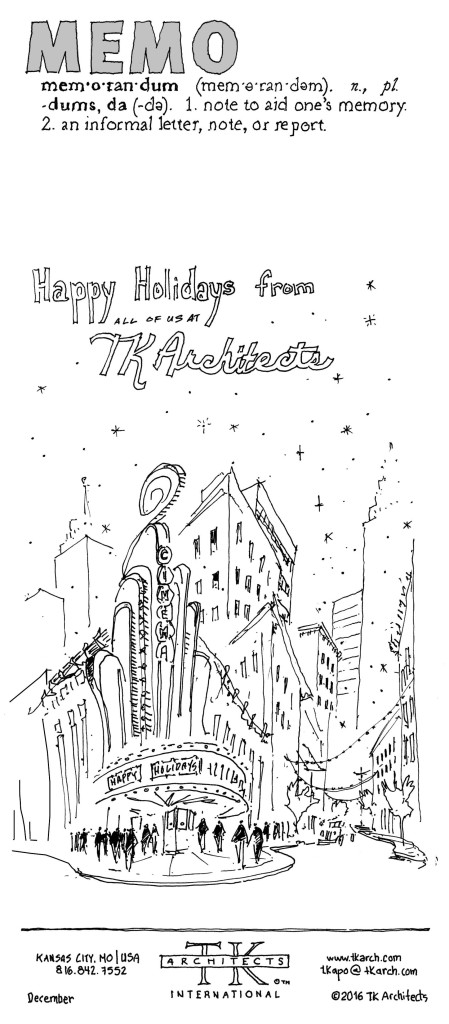 We love to hear from you!  Please do not forget to follow our Blog and News sections of the website for ongoing updates, as well as our social media posts on twitter, facebook, Instagram, pinterest and LinkedIn!  Do not hesitate to contact Irina at ikobzeva@tkarch.com with any questions and suggestions.